Biodiversity and the ecosystem services it provides are essential in maintaining a healthy and resilient planet. Biodiversity protects us from disease and natural disasters, cleans our air, and provides us with food security, just to name a few. When identifying sectors that are affected by or impact biodiversity loss, one likely thinks of agriculture and forestry. But, according to the Taskforce on Nature-related Financial Disclosures (TNFD), the World Economic Forum, and the World Bank, approximately half of the world's economic output (US$44 T) is moderately or highly dependent on nature. Thus, we can add financial security to the list of benefits biodiversity provides.
At-Risk Sectors
To assess nature-related risk, companies need to understand the distinction between their dependency on nature to keep operating, versus the impact that their business is having on nature itself, directly or through their supply chains.

Andrew Mitchell Co-Founder, Task Force on Nature-related Financial Disclosures (TNFD) Founder of Global Canopy and CEO of Equilibrium Futures
Underreported
Unfortunately, the majority of at-risk companies and sectors do not report on biodiversity loss. The mining sector is the only one where the majority, at 51%, reports. Additionally, The World Bank and the World Economic Forum state that "other major sectors, such as travel and tourism, real estate, and retail, have hidden dependencies through their supply chains", thus companies may possess more nature-related risk than previously thought.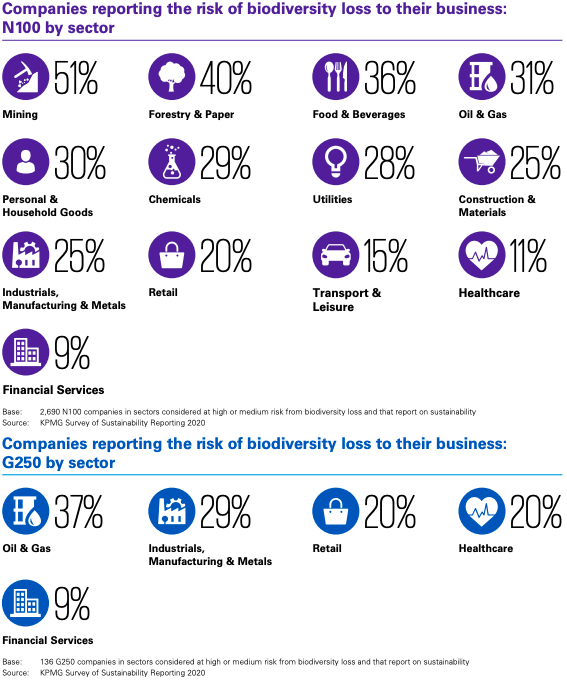 Biodiversity: An Opportunity
TNFD believes that biodiversity also presents opportunities for firms, not just risk, and they are on a mission to create a reporting and disclosure framework to shift organizations toward nature-positive solutions. Similar to carbon and climate disclosure, TNFD predicts biodiversity reporting, while voluntary now, will become required in the future. And if previous trends are any indication, the sooner your firm reports and acts on nature-related impacts the more likely it is to have a financial advantage over the competition.
---
Currently, the Natural Capital Protocol and ENCORE are available for assessing nature-related risks, while the TNFD framework is set to be available worldwide in 2023.
Johnson, Justin Andrew; Ruta, Giovanni; Baldos, Uris; Cervigni, Raffaello; Chonabayashi, Shun; Corong, Erwin; Gavryliuk, Olga; Gerber, James; Hertel, Thomas; Nootenboom, Christopher; Polasky, Stephen. 2021. The Economic Case for Nature : A Global Earth-Economy Model to Assess Development Policy Pathways. World Bank, Washington, DC. © World Bank. https://openknowledge.worldbank.org/handle/10986/35882 License: CC BY 3.0 IGO.
KPMG. (2020, December). The time has come: The KPMG Survey of Sustainability Reporting 2020. Retrieved October 4, 2021, from https://assets.kpmg/content/dam/kpmg/xx/pdf/2020/11/the-time-has-come.pdf
Taskforce on Nature-related Financial Disclosures. (2021). About. Retrieved October 4, 2021, from https://tnfd.global/about/